Description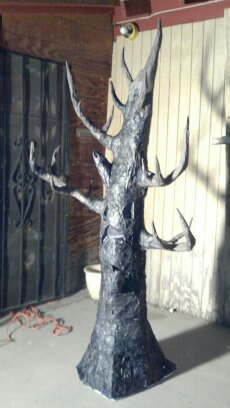 This is the Tree, naked as can be. This is what you'll have, after some simple assembly. Closer, more detailed pics coming soon, to at least show the TEXTURE of this baby! Just imagine her not in the artist's driveway (like here), but in your living room, and properly adorned…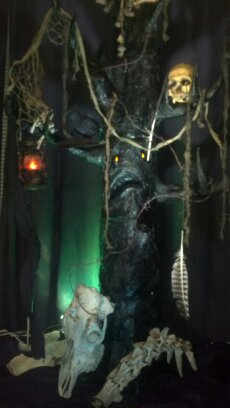 THIS is more like it, huh! We're working on getting more detailed pics up soon (stupid Smart Phone!) But at least you can imagine what you can do with her. Throw on some gauze, burlap, tear up that old work shirt, whatever, and drape that stuff on her! She loves it! Then grab some pumpkin lights, glowing LED eyes, LED candles and some skulls and bones–most of which are for sale on the Decorations page, under the Store tab–and you're BOTH ready to impress and/or creep out your friends…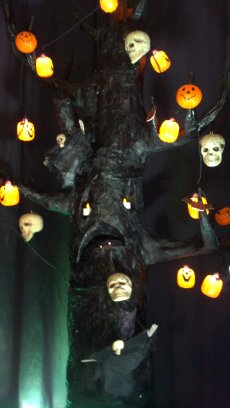 Oh, you don't HAVE to go all creepy with your Tree. You can tone it down/cuten it up for the kiddies 🙂 There are plenty of cute decorations, ghosties, light strings and such on the Decorations page, under the Store tab.
Although some fire- and water-resistant materials were incorporated into the design, your Tree should NOT be displayed near open flames, nor outside in the elements. These are SCULPTURES!
Price includes  shipping.  US Shipping only.